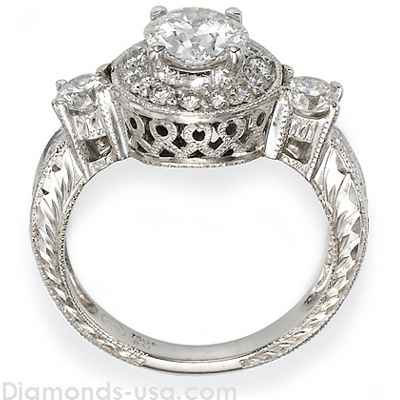 When you shop for diamond engagement rings, diamond rings, or even loose diamonds for your own design, you will encounter a number of options. For example, Diamonds-USA offers many cuts, sizes, clarity options, and styles. In fact, you can't go wrong with any of these amazing selections. One of the hottest trends for the year is detailed profiles or side views, and just about any women will appreciate this feature.
What is a Detailed Side View?
This view is what the ring looks like from the side and is best seen when the ring is sitting on a surface and not being worn. The side view or profile of a ring is an often overlooked feature. However, it can make a big difference in overall appearance and sparkle.
Benefits of Detailed Profiles
When you have additions to your ring like filigree, paving, and extra stones, it adds to the beauty and opulence. This is especially important for the woman who wants to show off a new ring and impress others. After all, what good is spending money on diamond engagement rings, if you can't show them off and brag a little?
Which are the Best Rings for Detailed Side Views?
There are a number of rings you can buy which will give you that added bling. These rings can be purchased pre-set or you can shop loose diamonds for sale and create your own unique design. Here are some styles you may wish to check into.
Antique (Vintage ):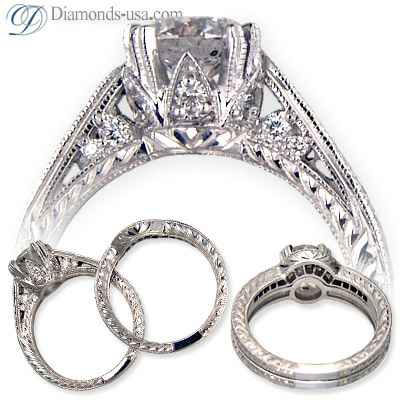 The old styles are filled with all kinds of scrolling designs and artwork. Plus, there is good news for those who like the old fashion look. You don't have to spend a fortune on a family heirloom because many fine antique style rings are being created today and trusted online jewelers like Diamonds-USA have many beautiful selections of new vintage engagement rings at affordable prices.
Halo Rings
Although not all halo rings feature elaborate artwork on the side, you can find several that do. Many of these rings feature paving which covers the sides as well as the front and this may be the perfect look you want. In fact, when you shop vintage halo diamond engagement rings, you may find some of the most ornate selections. You can choose from several types of precious metals and a yellow gold setting with paving and halo diamonds produces a contrast which must be seen to be appreciated. Maybe you would like to have as large a center stone as possible. Check out the selections marked "C.E.". This stands for clarity enhanced diamonds and the tiny inclusions have been expertly repaired. You cannot tell by looking at them, and you can save a considerable amount of money with this strategy.
Design Your Own
No matter what style you like, you can include paved diamonds or special features on the sides when you design your own ring. Shop loose diamonds for sale and choose the perfect stone. Next, design the kind of ring you want. You only have to provide sketches or you can draw images. Our designers utilize the latest in computer aided design software to turn 3-D images into wax models, so they can be casted and turned into your custom engagement ring. This can produce the most intricate of designs.