We tend to follow our favorite celebrities, idolize them and watch their every move. Popular culture is now influenced by the lifestyle of the rich and famous, their choice of clothing and yes- even their engagements.
An engagement ring can represen
t more than just a personal taste- it can be the embodiment of our persona.
Which famous celebrities recent got married and what does their engagement ring might suggest? Here are our exclusive conclusions:
Scarlett Johansson– Johansson got recently engaged and married to actor Ryan Reynolds. Just like Johansson, the engagement ring decorating her finger is young, gentle and classic. Don't be fooled by the humble look of the ring- it cost over 30k!
Katie Holmes- Holmes infamous marriage to Tom Cruise began with a very unique oval shaped diamond ring. Katie is known to have an exquisite taste when it comes to fashion and luxury, which is no surprise that her five carat engagement ring is unique. The ring has platinum rose gold settings with an antique vintage feel.
Eva Longoria- Our favorite desperate housewife recently wed NBA's basketball player Tony Parker. Their relationships had its ups and downs but one thing is certain- Longoria's engagement ring is absolutely stunning! Eva's ring is almost as noticeable as she is since it's so large and dominant. Eva sure does love luxurious pieces!
Ashley Simpson- Simpson may have been very young at the time she married Pete Wentz but it seems that when it comes to her taste in jewelry- there's nothing juvenile about her. Her breath taking engagement ring cost a whopping 100k$ and it's a true stunner, just like the lady who wears it.
Jessica Alba– Alba is notoriously beautiful which is why the only appropriate choice of an engagement ring for Mrs. Alba had to be the top of the top. Alba has received a stunning ring from her boyfriend Brad Cafarelli and it was a beautiful sign of commitment between the loving parents.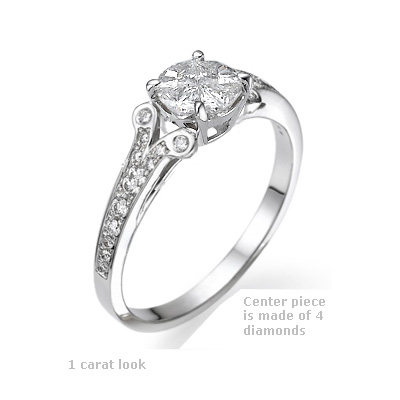 Beyonce- Nobody loves to live well like Jay-z which is why no one was surprised when Beyonce received a 5 million dollar ring from her beloved rapper. The ring is a Lorraine Schwartz stunner and we are convinced that this 18 carat flawless diamond is so massive that it can be seen from the moon.
Whether you're decadent, humble or esthetic loving person- your engagement ring can reveal a lot about your nature.
We may not be able to splurge 5 million dollars on our dream engagement ring but no matter which ring you choose- always makes sure that it reflects your true character.